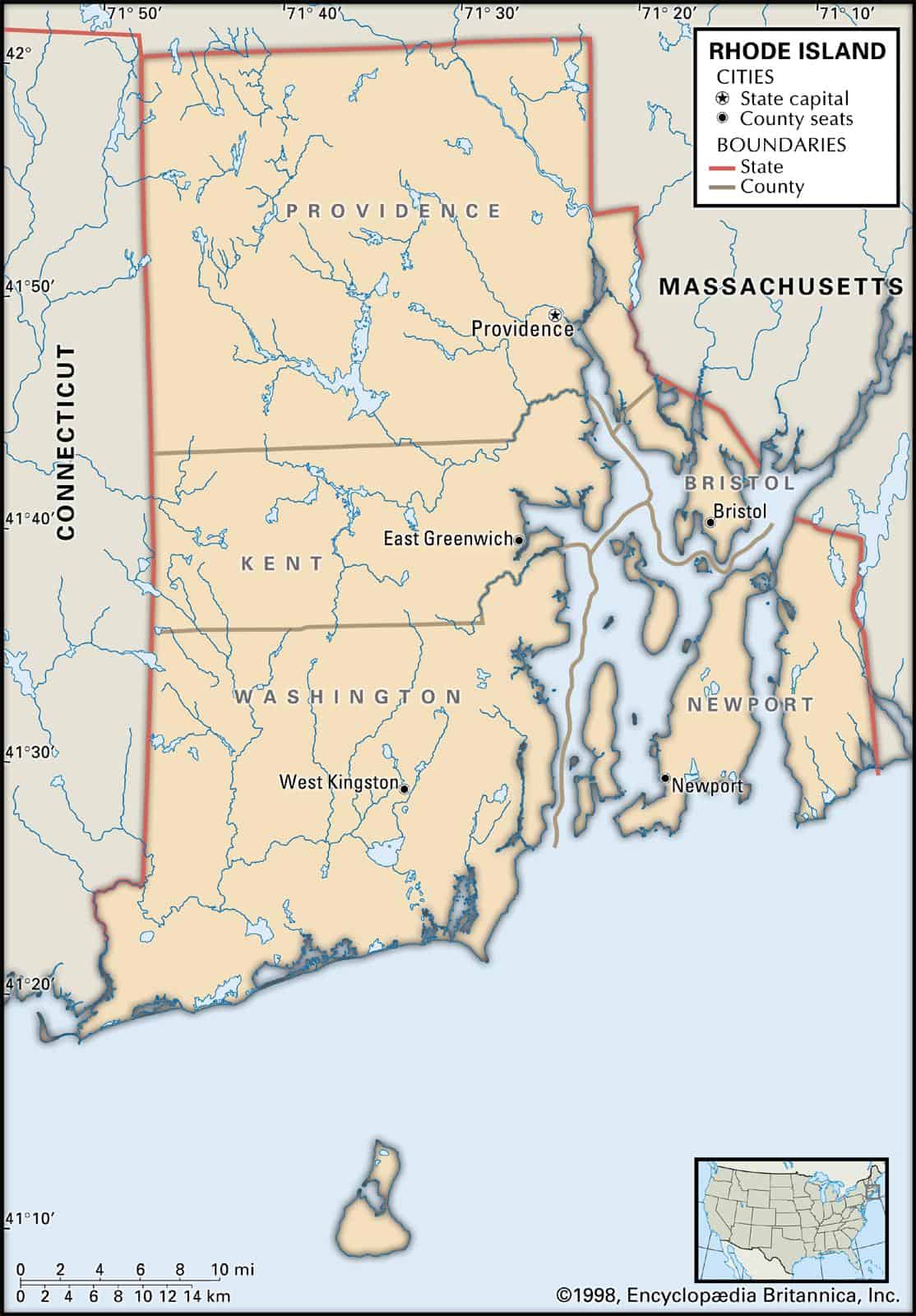 Maps of Rhode Island are an invaluable tool for family history research, particularly in the event you live far from where your ancestor was living.
Since Rhode Island's political borders have frequently changed over the years, historic maps are important in helping you discover the specific location of your ancestor's hometown, exactly what land they owned, just who their neighbors ended up being, and much more besides.
Maps of Rhode Island are a great resource for starting out with your own research because they provide helpful information and facts right away, and they present them in a clear and simple format. Rhode Island Maps are sure to offer plenty of fascinating data regarding your family history.
Rhode Island borders Connecticut and Massachusetts. Rhode Island's 10 largest cities are Providence, Warwick, Cranston, Pawtucket, East Providence, Woonsocket, Newport, and Central Falls.
Learn more historical facts about Rhode Island counties here.
Interactive Map of Rhode Island County Formation History
AniMap Plus 3.0, with the permission of the Goldbug Company
List of Every Rhode Island County
Providence County
Established in 1703, Providence County is the most populous county in Rhode Island, with approximately 643,000 residents. The county is home to the state capital of Providence, as well as many colleges and universities, including Brown University and the Rhode Island School of Design.
Kent County
Kent County was founded in 1750 and has a population of around 164,000. The county is located in the central part of the state and includes the city of Warwick, which is the second-largest city in Rhode Island.
Washington County
Established in 1729, Washington County is the largest county in Rhode Island by land area but has a relatively small population of approximately 126,000. The county includes many scenic coastal areas, including the town of Narragansett and Block Island.
Newport County
Newport County was founded in 1703 and has a population of around 82,000 people. The county includes the city of Newport, which is known for its historic mansions and scenic waterfront.
Old Antique Atlases & Maps of Rhode Island
David Rumsey Historical Map Collection
Rhode Island Map Links