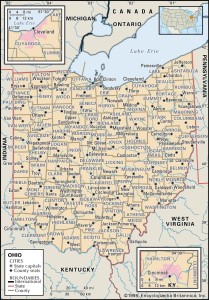 Maps of Ohio tend to be an vital element of genealogy and family tree research, particularly in the event you live far from where your ancestor resided. Given that Ohio political borders sometimes changed, historic maps are generally essential in assisting you find out the exact location of your ancestor's home, exactly what land they owned, just who their neighbors had been, and a lot more.
Maps of Ohio usually have a tendency to be an excellent resource for getting started with your research, since they provide you with significantly useful information and facts right away. Ohio Maps are usually a major resource of considerable amounts of details on family history.
Ohio borders Pennsylvania, West Virginia, Kentucky, Indiana and Michigan. Ohio's 10  largest cities  are Columbus, Cleveland, Cincinnati, Toledo, Akron, Dayton, Parma, Youngstown, Canton and Lorain.
Learn more about Historical Facts of Ohio Counties.

Interactive Map of Ohio County Formation History
Old Antique Atlases & Maps of Ohio
Ohio Map Links